We fire up the grills and turn up the music with this menu.
Choose up to 3 below

Custom Blended Beef Burgers
These burgers are not like anything you have tasted before. Custom created by the Nameless culinary team with non-traditional ingredients make these an epic addition to your cookout.
Breaded Chicken Breasts
This chicken breast is the contender in the chicken sandwich war for the ultimate chicken sandwich.
Fresh Brats
Grilled brats making you feel the Summer vibes no matter the time of year
All American Hotdog
Classic grilled hot dogs, a great option for kids, or kids at heart.
Sweet Potato Blend Burger (Vegan and GF)
Exclusive Cookout Package
$34.00 / Person
includes dessert and sides below
 Chocolate Chips Cookies & Fudge Brownies
Included with the menu
All needed disposable plates, cutlery, serving utensils, and wire chafing racks to keep your meal warm for up to 3.5 hours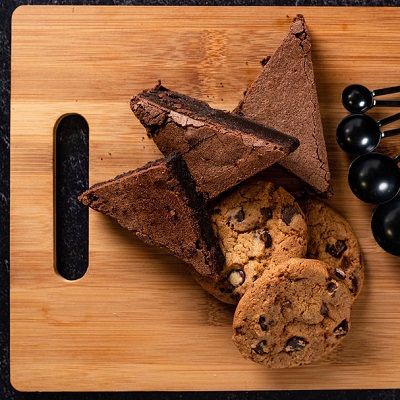 Corn off the cob
We don't really think this needs a description, this is the Midwest.
Roasted Tomato Mac N Cheese
Mac and cheese is always a winner with the kids, but the addition of roasted tomatoes will delight grown-ups too
Watermelon Salad with Feta and Cucumber
Our watermelon salad is full of sliced cucumbers, crumbled feta cheese and mint, all tossed in an easy lime dressing. A simple yet unusual summer salad, sure to get rave reviews.
Ask about adding canned Coke Products, tea, bottled water, or lemonade to you order
Individually Bagged Kettle Cooked Chips
Gluten Free :
Dairy Free :
Vegetarian :
Nut Free :
Vegan:
Wheat Free:
Soy Free:
Contains Egg:
" Nameless Catering was a no brainer for our wedding caterer. We did one of their tasting events and knew right away we wanted to go with them. We did their pasta offering and highly recommend the pepper salad with pesto ranch and the buffalo tortellini. They were excellent to work with and our guests loved the food. "
– Jared Overman (Google Review)